The Interesting Item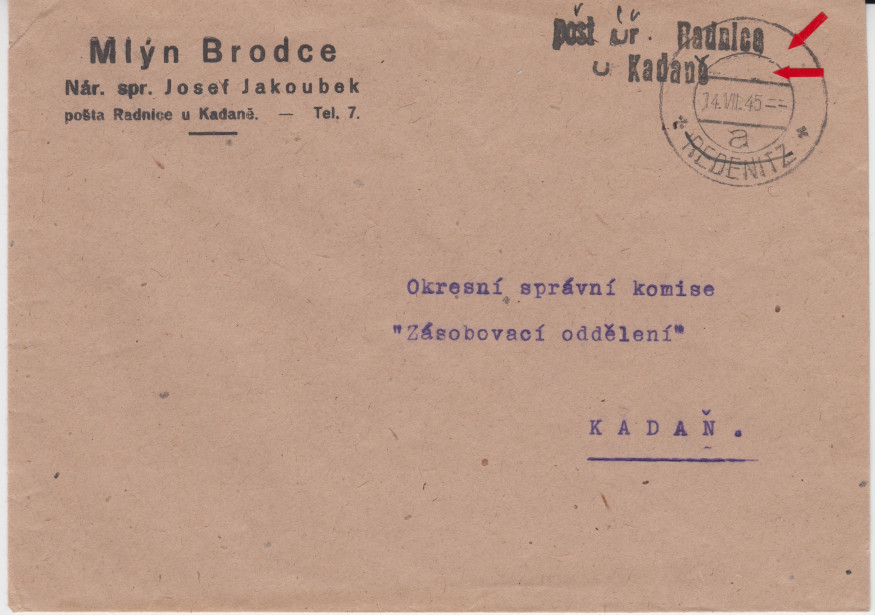 This is a cash-paid letter sent on 14.07.1945 from the mill administration in Brodce near Kadaň (Kaaden) to the supply department at the district administration in Kadaň. The responsible post office for Brodce was Radnice u Kadaně (Redenitz near Kaaden), as can also be seen from the sender information. The indication "Nár. spr. (= Národní sprava, i.e. national administration) before the name indicates that the mill was originally (until the end of the war) owned by a German and then confiscated.
Of particular philatelic interest on this cover is the used altered two-circle postmark from pre-war Czechoslovakia, 1st type according to Votoček, on which, surprisingly, the German post office name was not removed, as was customary in 1945, but instead the Czech name and the designation "Č.S.P." in the upper circle segment. The reason: The alteration had already been made in 1938 after the "Anschluss" of the Sudentenland to the German Reich. The stamp thus altered was used for a few weeks in 1938 until a new monolingual German stamp was available from the German Reichspost. After the end of the war in 1945, this stamp was apparently found again by Czech post office employees and, in the absence of a Czech-language stamp, was used again for some time because of the adjustable date. The German name was simply crossed out by ink pen. Instead, a provisional line stamp with the Czech name ("pošt. úř. Radnice / u Kadaně", i.e. post office Redenitz near Kaaden) was added. This stamp was obviously created from German letter stocks that did not contain Czech diacritical marks. These were therefore added by hand. Both stamps were in use at least until mid-August 1945, after which they were replaced by the two-circle hand rubber stamps with fixed year "1945" and later "1946" issued by the central postal administration in Prague. New definitive stamps of the Czechoslovak postal administration with adjustable dates were not issued to the Radnice post office until 21.10.1946.
Note: Nowadays you will look for the place Radnice on the map in vain. It was located on the territory of the present-day Hradiště military training area in the Doupovské Mountains. After its establishment, the inhabitants of the village were resettled on 15 May 1954 (source: Wikipedia). Brodce, which lies just outside the military training area and still exists, is now part of Kadaň, but is largely depopulated (see Wikipedia).
Do you have any comments or questions? Then feel free to write (in English) to the webmaster.
Unless otherwise stated, all items presented were in the possession of an ArGe member at the time of publication.