The Interesting Piece
The following document marks the start of our new section: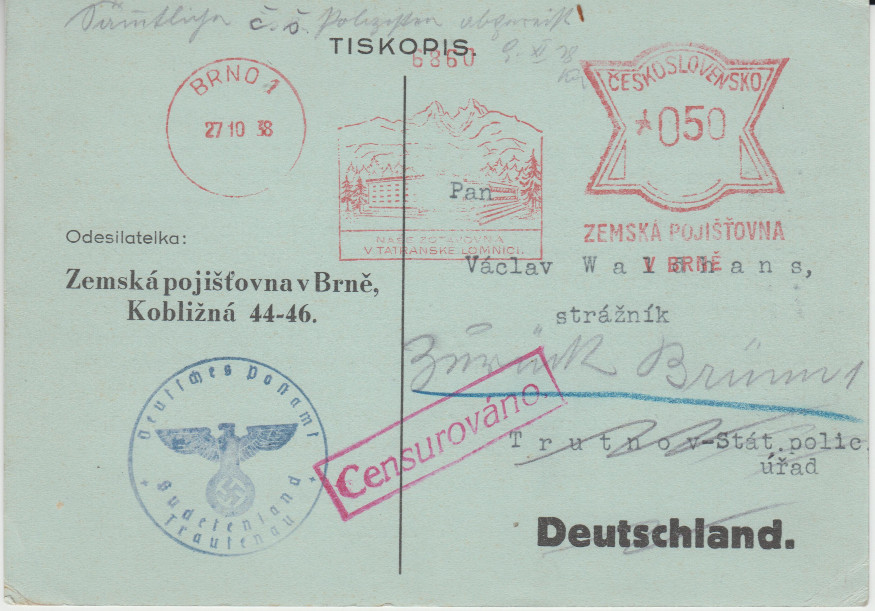 This is a printed matter of an insurance company from Brno (Zemská pojišťovna v Brně), cancelled with 0,50 K by a meter stamp dated 27.10.38, which went to Trutnov/Trautenau. The postmark also contains an advertisement for the recreation home of the company in Tatranská Lomnica. Since the card went from the "Rest of Czechoslovakia" to the Sudetenland, now part of the German Reich, after the Munich Dictate, it bears a Czech censor stamp. The recipient of the card should be the Czech police officer Václav Waldhans at the state police office in Trutnov/Trautenau. However, it could not be delivered, because - see the handwritten note of the (German) postal clerk - in the meantime "all čsl. policemen departed". The printed matter was therefore sent "back to Brno 1" and stamped with an official stamp of the "Deutsches Postamt Trautenau/Sudetenland", showing the German national emblem with the swastika.
The pre-printed text on the back shows that for the time being no payment transactions are possible between the separated territories and Czechoslovakia, which is why the policyholder is asked to wait calmly for developments and not to turn to a competing company.